A light, fluffy vegan sponge packed with vanilla flavour. It's also perfect for covering with fondant icing to make a birthday or celebration cake.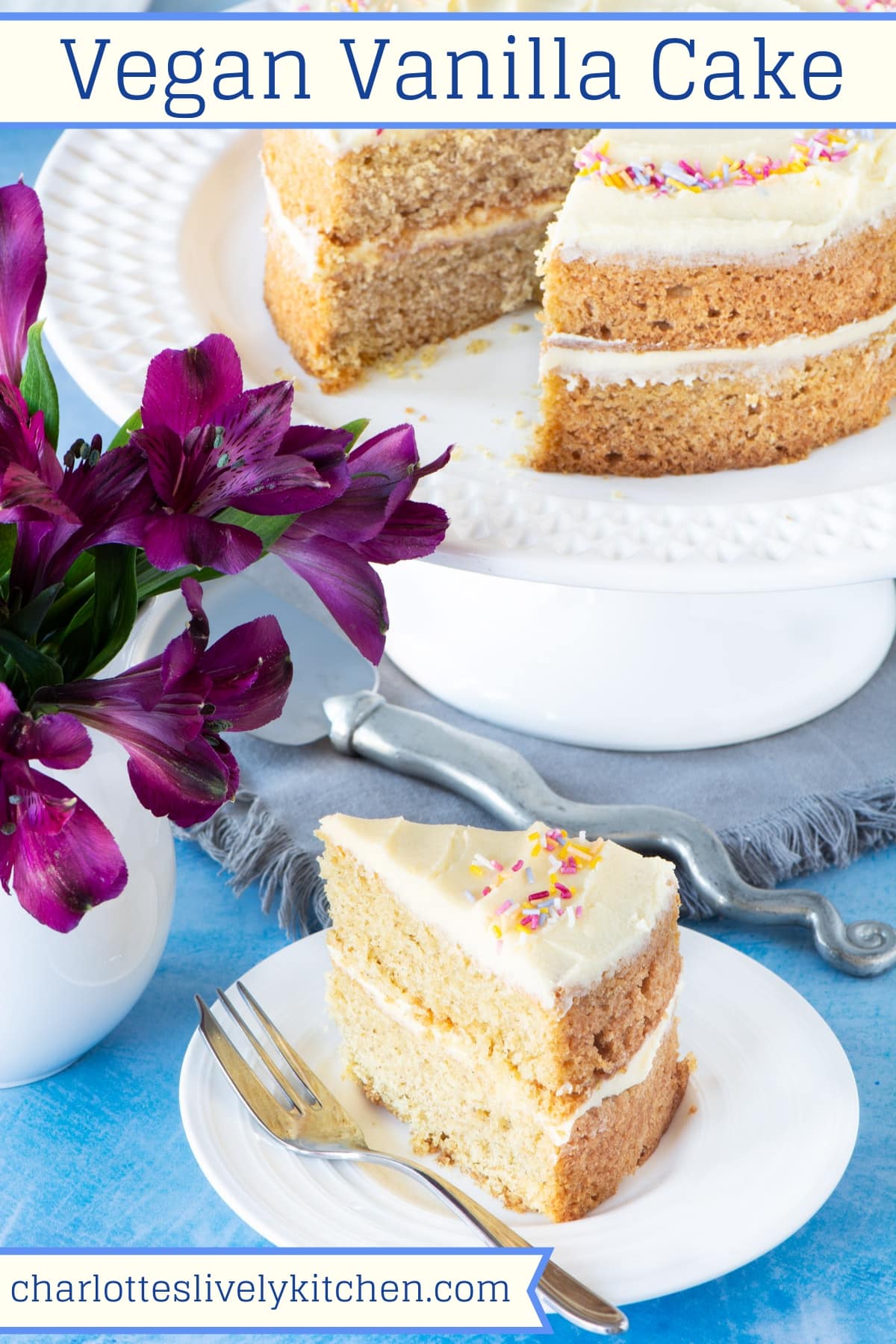 One of the recipes on here that you always seem to love is my Vanilla Birthday Cake, and I've had many requests to create a vegan version for people to make for their friends and family who cannot have eggs and dairy.Before Christmas, I shared my recipe for Vegan Vanilla Cupcakes, and I promised that I'd adapt that recipe to make a larger cake, and here it is. As with my vegan vanilla cupcakes, it has the perfect sponge cake texture, and I'd challenge anyone who didn't know it was egg or dairy-free to guess otherwise.
However, with this particular cake it wasn't just about getting the perfect flavour and fluffy texture.One thing that I love about running this site is the messages I get from people that have made my birthday cakes for their friends and families. Nothing makes me smile more than seeing pictures of your creations and reading about how much everyone loved the cake. I've talked before about my memories of the cakes my mum made for me as a child, and how excited I was to see what she'd created each year. I want other children (and grown-ups too) to be able to have those memories regardless of whether they can have eggs or dairy.
So this cake not only had to be delicious, it also had to be sturdy enough to decorate. To cover in colourful fondant and stick characters on the top and make someone's day.
And it is…
Yes, yes, I know you don't light the candles after slicing the cake, but it looked prettier that way 🙂
So what makes the perfect vegan cake?
As I said before, this recipe is based on my Vegan Vanilla Cupcakes, and I've written all about the development of that recipe, in particular, why I used the ingredients I have over on that post. If you'd like to read more about it, then head over there for all the detail.
The main feature that makes this cake different from many of the other vegan cake recipes is that the eggs are replaced in two different ways.
A combination of bicarbonate of soda, vinegar and plant-based milk replaces the raising abilities of the eggs, giving the cake lift and making it light and fluffy.
The addition of ground chia seeds replaces the drying abilities of the egg so that the finished cake is soft, not claggy.
But it's not just about replacing the egg. This cake also has other subtle differences to a traditional sponge cake.
Extra flour adds stability.
Almond milk (or another plant-based milk) replaces the moisture from the eggs and helps get the cake mixture to the right consistency.
Vegan margarine adds softness and flavour – many vegan cakes use vegetable oil instead, but I prefer the texture and taste of a cake made with margarine.
Other recipes you might enjoy
If you're after more vegan baking inspiration, then take a look at my Vegan Baking Index.
If you fancy trying a different flavour of cake, then take a look at some of these other delicious vegan cake recipes: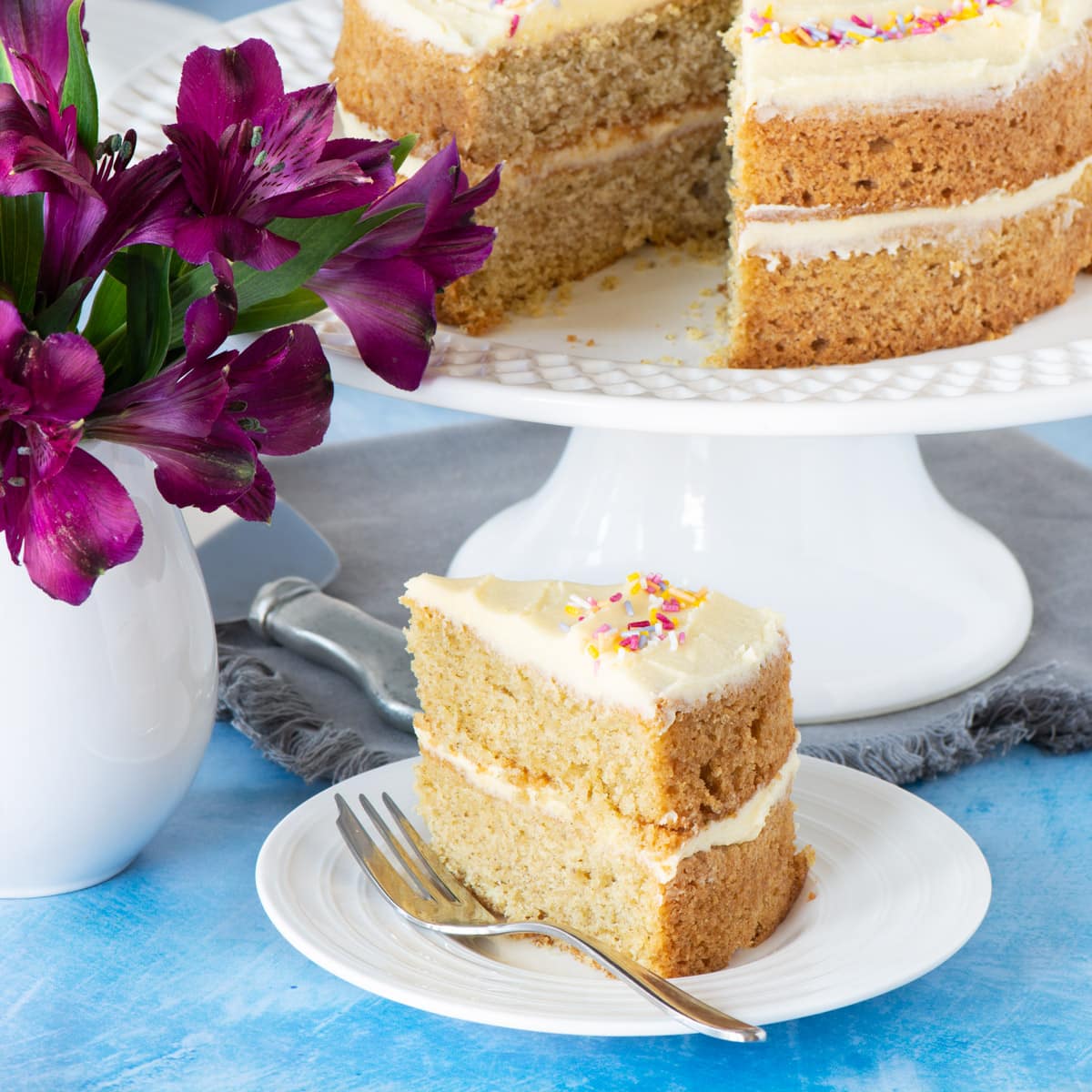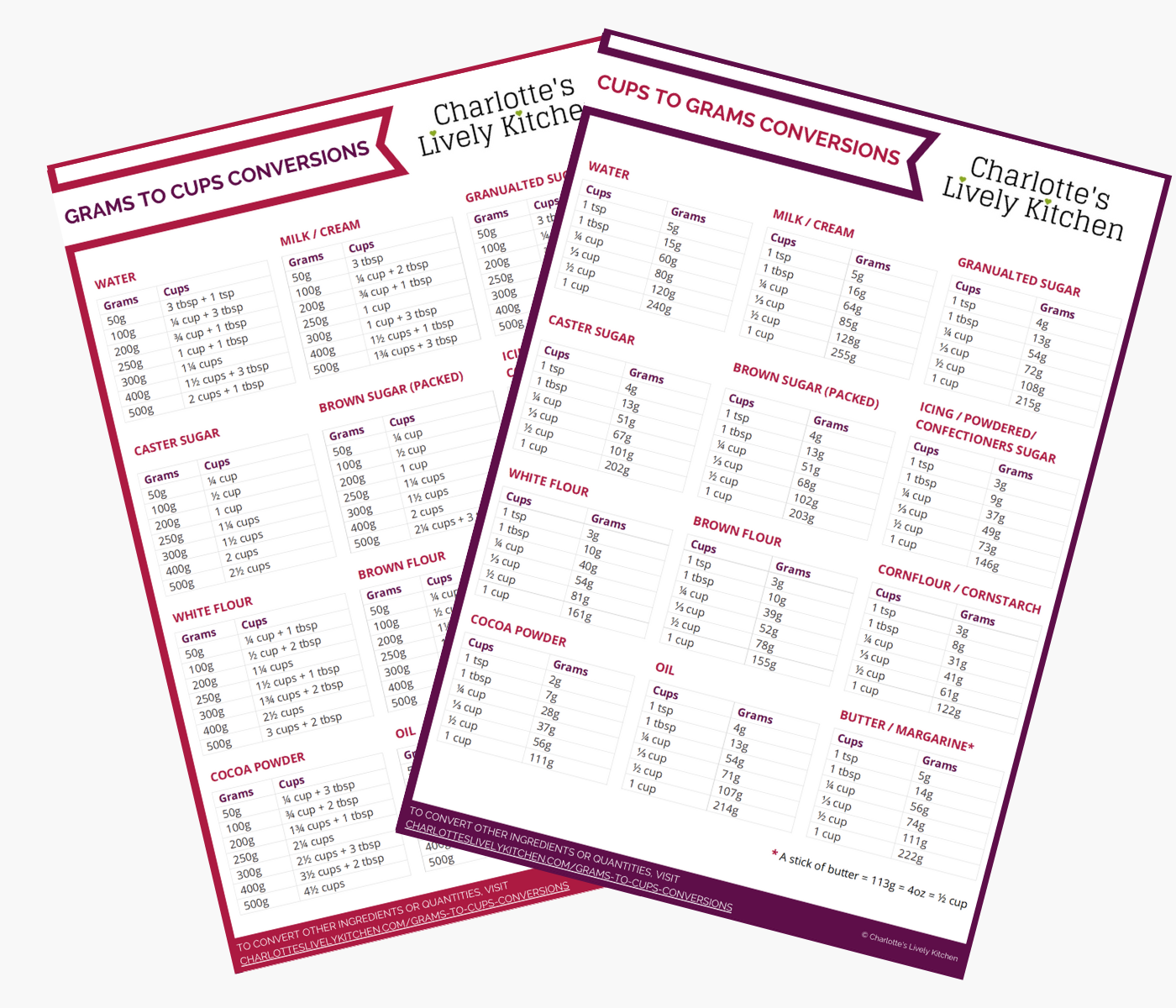 Subscribe to the Charlotte's Lively Kitchen mailing list to get your FREE printable grams to cups and cups to grams conversion charts for twelve popular baking ingredients
Vegan Birthday Cake (Vegan Vanilla Sponge)
The best vegan vanilla cake you can bake - A light, fluffy sponge packed with vanilla flavour. It's also perfect for covering with fondant icing to make a birthday or celebration cake.
Print
Pin
Rate
Save
Go to Collections
INGREDIENTS
270

g

self-raising flour -

or 255g plain flour and 13g baking powder

180

g

vegan margarine

-

I use Pure Sunflower

180

g

caster sugar

135

ml

almond milk

-

or other plant-based milk

2

tbsp

chia seeds

-

I prefer to use white chia seeds so the sponge doesn't look speckled, but black will work just fine

¾

tsp

white wine or cider vinegar

¾

tsp

bicarbonate of soda

1

tbsp

vanilla extract
INSTRUCTIONS
Pre-heat your oven to 180°C/160°C fan.

Line two 18cm round sandwich tins with greaseproof paper or reusable baking liners.

Finely grind the chia seeds (2 tbsp) - I like to give mine a quick blast in my spice grinder, but this can also be done in a pestle and mortar.

Beat together the vegan margarine (180g), caster sugar (180g) and vanilla extract (1 tbsp) until fully combined and soft.

Sift the dry ingredients (270g self-raising flour, ¾ tsp bicarbonate of soda, and the ground chia seeds) into the bowl with the margarine, sugar and vanilla. Finally, pour in the almond milk (135ml) and vinegar (¾ tsp).

Working quickly, mix together the ingredients until combined.

As soon as the cake batter is ready, split it equally between the two tins. Smooth the top of the mixture so it is evenly spread out and reaches the edges of the tins - I do this using the back of a spoon.

Bake for 25 minutes, until a skewer inserted into the centre comes out clean.

Once baked, remove the cakes from the oven and leave them to cool in their tins for a few minutes before removing them from the tins and moving them to a wire rack to cool completely.
NOTES
This cake is iced with my Vegan Vanilla Buttercream.
First time making this recipe? Take a look below the recipe for lots of extra tips and FAQs.
WANT TO HEAR ABOUT NEW RECIPES FIRST?
SUBSCRIBE to the Charlotte's Lively Kitchen Mailing List
NUTRITIONAL INFORMATION
Calories:
346
kcal
|
Carbohydrates:
47.5
g
|
Protein:
4
g
|
Fat:
14.7
g
|
Saturated Fat:
3.5
g
|
Sodium:
284.2
mg
|
Fiber:
2
g
|
Sugar:
23.3
g
Any nutritional information provided is the estimated nutritional information per serving. Please refer to my guide to Charlotte's Lively Kitchen nutritional information if you would like to learn more about how this is calculated.
---
How do you grind chia seeds?
I prefer to grind my chia seeds in a spice grinder as it's the easiest way to grind them evenly and finely. However, you can also use a pestle and mortar if you prefer.
I'd recommend passing the ground chia seeds through a sieve before adding them to the cake mixture to ensure that no larger bits are left.
Can I use flax seeds or linseeds instead of chia?
Yes.
You can substitute the chia for ground flax seeds or linseeds. They both work equally well.
I've used white chia in my cake as it gives the cake a more vanilla sponge look. However, you can also use the black chia seeds that are more commonly found in the shops. The only difference is that this will give the cake a slightly flecked look.
Why do you cream together the margarine and sugar if you're not adding eggs?
When you make a traditional sponge, you are often asked to cream together the butter and sugar before gradually adding the eggs. Given this cake doesn't contain any eggs, why do I still start by creaming the margarine and sugar?
I do it simply because I need the margarine to be really soft before adding the other ingredients. This recipe uses a combination of bicarbonate of soda and vinegar to help the cake to rise. As soon as these two ingredients are combined a reaction starts and bubbles start to form. Ideally, this reaction should take place as much as possible in the heat of the oven so it's essential that the ingredients can be mixed together quickly. Ensuring the margarine is nice and soft before adding everything else makes this much easier.
This is also why I add the dry ingredients before the wet ingredients. Delaying the reaction for as long as possible.
This mixture seems stiffer than a traditional sponge cake mixture, should I add more liquid?
No.
The mixture for this cake should be quite a bit stiffer than a traditional sponge mixture. You'll find that you need to spoon it into the tin and spread it, rather than pouring it in.
Don't be tempted to add more liquid to soften it. This will result in a cake that rises too much and then sinks in the middle.
Not only is the cake mixture stiffer than a traditional sponge cake, it also has a rougher texture. As you mix the ingredients together, you'll start to notice air bubbles forming in the mixture giving it the look of a natural sponge (the type you wash with rather than the cake!).
I need my cake to be eggless, but I can have dairy. Can I use regular milk and margarine/butter?
Absolutely.
I designed this cake to be completely vegan, but if you only need it to be egg-free, then it will also work just fine with cows' milk in place of the almond milk and regular margarine/butter in place of the vegan version.
If you decide to use butter, please make sure it is nice and soft (at room temperature) and give it a really good beating in step 3 to make sure it's easy to combine the other ingredients.
What about if I can have eggs, but I need my cake to be dairy-free?
In that case, you could use this cake recipe just as it is (just because you can have eggs doesn't mean you have to!). Alternatively, if you'd like a more traditional sponge cake, then my Vanilla Birthday Cake can be easily adapted to be dairy-free by switching the butter/margarine and milk for dairy-free equivalents.
If you're looking for a dairy-free chocolate cake, then my Dairy-Free Chocolate Cupcakes Recipe can be easily adapted into a full-sized cake.
Can this cake be covered with fondant icing?
Yes. This cake is perfect for covering with fondant icing.
To cover this cake you need about 800g of fondant icing. This will give you enough to roll the fondant a little bigger than the cake so it can be trimmed neatly.
I'd recommend filling and covering the cake in my Vegan Vanilla Buttercream before adding the fondant icing as it will help the fondant to adhere to the cake and make it easier to get a smooth finish (plus buttercream is yummy!).
Can I use this recipe to make a vegan victoria sponge cake?
Yes.
If you prefer jam and cream to buttercream, then you can fill this cake with a layer of jam and layer of Whipped Coconut Cream.
Free From/Suitable For
The ingredients I used to make this recipe are all free from the following allergens. However, please check any labels carefully for allergens you need to avoid as brands can vary, and product recipes can change over time.
Suitable for Vegetarians and Vegans
Egg-Free
Dairy-Free
Peanut-Free (contains almond milk)
Sesame-Free
Soya-Free
Sulphur Dioxide & Sulphite-Free
Lupin-Free
If you would like to make this recipe tree nut-free (almond) then switch the almond milk for another dairy-free alternative.