Honey roasted carrots and parsnips with rosemary and thyme – easy to prepare and delicious to eat. The perfect accompaniment to your roast dinner.
Skip to the recipe | Recipe FAQs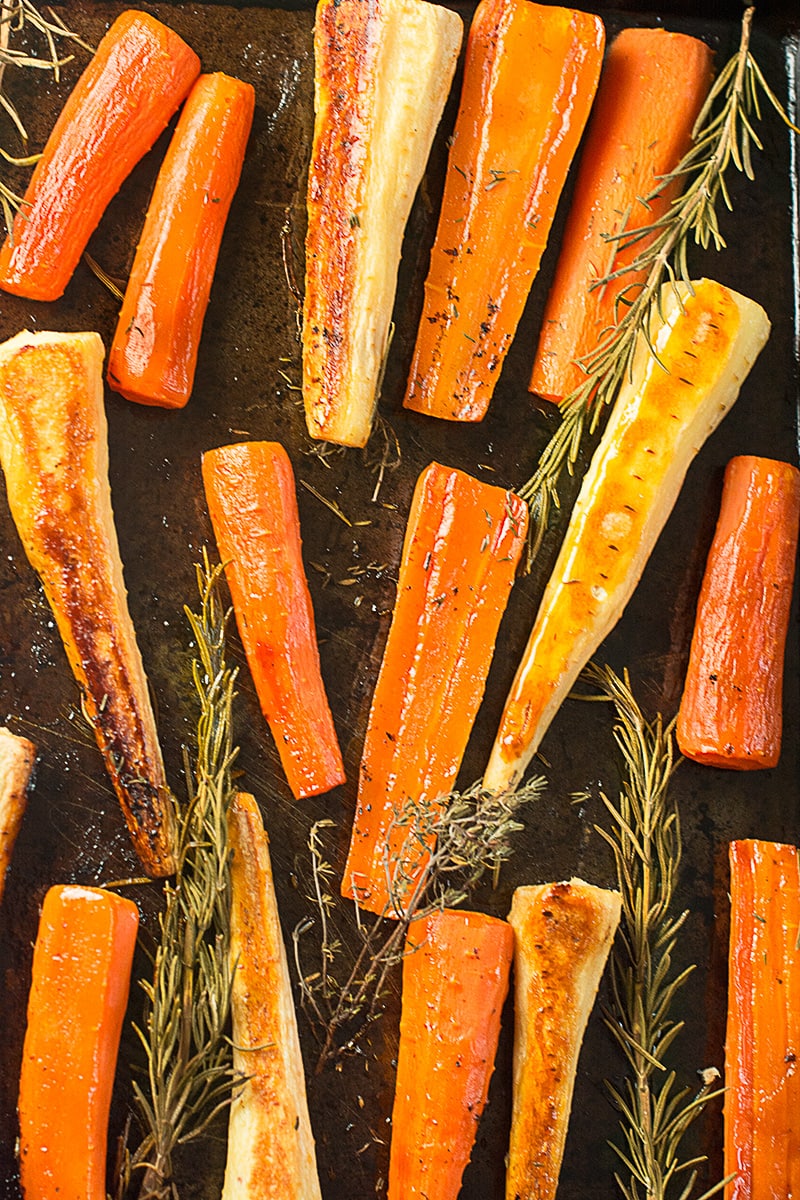 Anyone reading my blog this week will have noticed a theme emerging. Now the summer has officially ended, I'm back in full roast dinner mode.
There's another motive behind this new found desire to share everything roast dinner. I've entered into stealth Christmas mode. It's that time when secretly everyone's thinking about Christmas, but it's a bit too early because you have to get Halloween out of the way first (or is it just me?).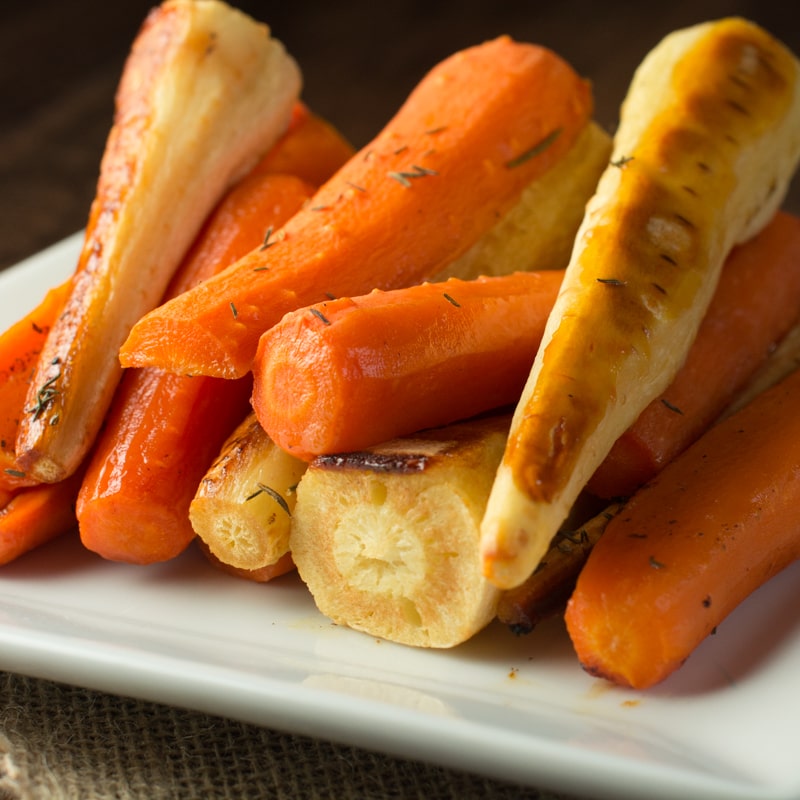 I mentioned in my perfect roast potatoes post a couple of days ago that I'm not a huge fan of the Autumn and Winter. However, I'm a huge fan of Christmas. So, ever since Daniel started back at school and the evenings started getting darker, I've been thinking about Christmas.
I accept that it's actually far too early to be sharing Christmas recipes, so I'm stealthily sharing them under the disguise of roast dinners.
The great thing is that they're just as perfect for your regular Sunday roast as they will be on the big day and by sharing them now it gives you the chance to try them out a few times before the big day comes!
Honey Roasted Carrots and Parsnips FAQs
If it's your first time making this recipe or you have a question, please take a moment to have a read through my FAQs for some extra tips and allergen information.
Do I need to use equal quantities of parsnips and carrots?
No, you can use any mix of carrots and parsnips that you like or have on hand. You can also use this recipe to just make honey roasted carrots or honey roasted parsnips on their own.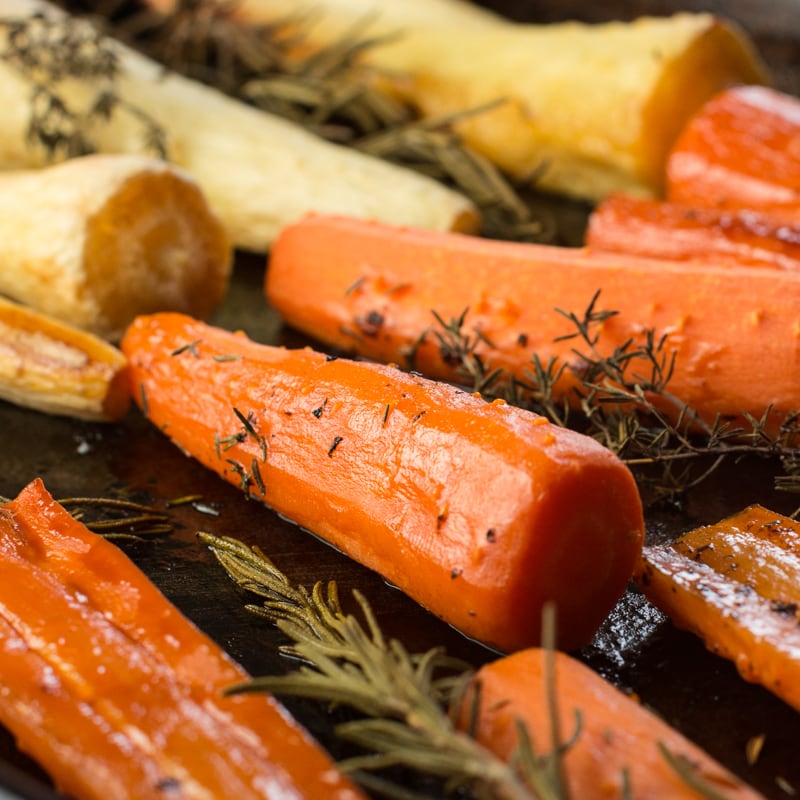 Do you need to peel parsnips or carrots before roasting?
This will depend on the vegetables you use and your preference. Vegetables that have been stored for longer or that were picked later in the growing cycle may have tougher skins than very fresh or young vegetables.
I do prefer to peel my parsnips and carrots but if the skins look in good condition, you can give them a good scrub and roast with the skin on.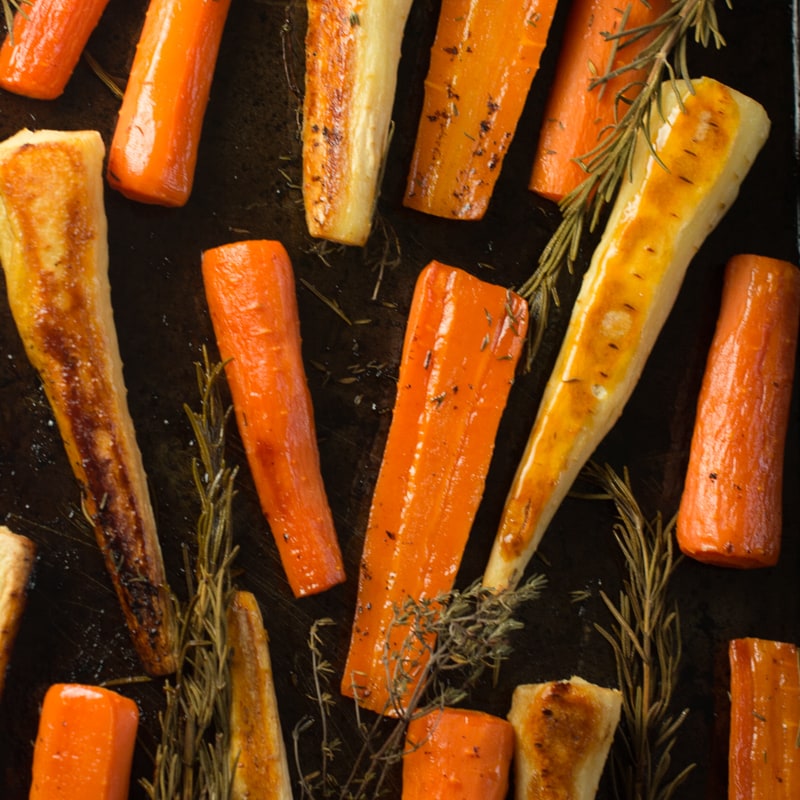 Is it best to parboil parsnips before roasting?
This is also somewhat down to personal preference. Some people swear by parboiling their parsnips before roasting and others like me, think that it's an unnecessary extra step.
My recipe roasts the parsnips straight from raw along with the carrots. And they are perfect every time.
Do you roast vegetables in the oven covered or uncovered?
Unless a recipe states otherwise, you should always roast vegetables uncovered. By covering the vegetables, the steam produced as they cook will not be able to evaporate and the vegetables will steam instead of roast.
What oil is best to roast carrots and parsnips in?
I like to use olive oil for roasting as the flavour adds to the finished dish. Do note that I use olive oil and not extra virgin olive oil which is more expensive and better saved for dressings etc where the flavour will really shine.
You can also use vegetable oil to roast these roast carrots and parsnips or any other neutral flavoured oil designed for cooking.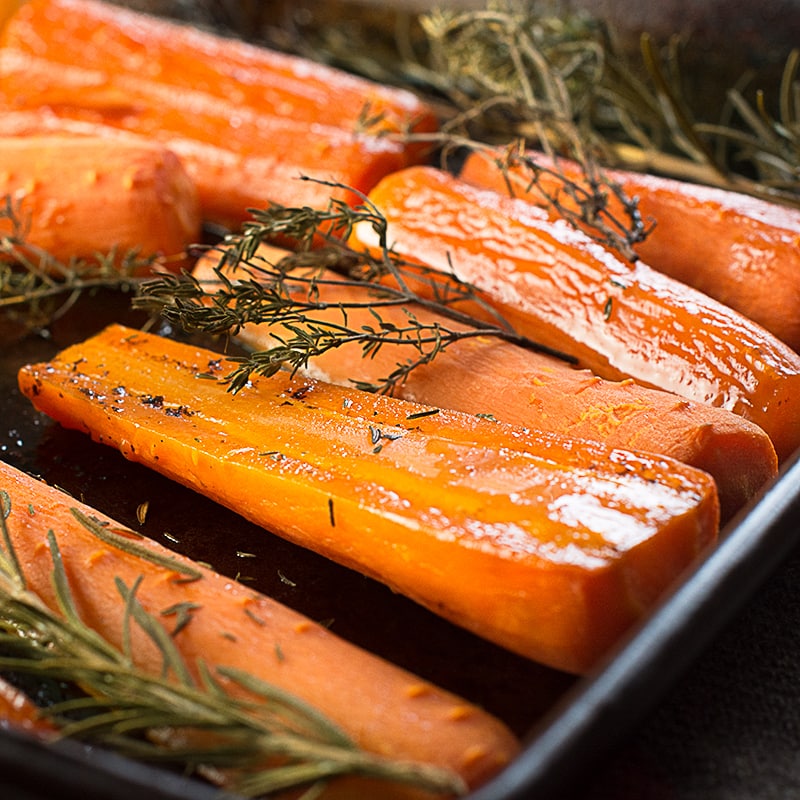 Can I make maple roasted carrots and parsnips?
Yes! Just switch the runny honey in the recipe for maple syrup. Make sure to use 100% pure maple syrup and not a maple flavoured syrup as this will affect the taste and may have a tendency to catch and burn.
What is runny honey?
Runny honey or clear honey as it is also known is the natural state of honey. Depending on the chemical composition of the honey, it will crystallise and set at some stage. Set honey is the name given to honey that has already crystallised.
There is no difference in the flavour or quality of runny or set honeys. You can restore a set honey to be runny by standing the jar in a bowl of hot water or scooping some out and warming it gently.
You will need your honey to be runny for this recipe otherwise you won't be able to mix it with the other ingredients or brush it onto the carrots and parsnips.
Can roasted carrots and parsnips be made in advance?
Yes you can start this recipe in advance and then finish them off just before serving. The best way to do this is to roast the vegetables until they are around two thirds cooked. Once cool, you can store the carrots and parsnips in the fridge until the next day or freeze.
To finish the cooking, make sure the vegetables are fully thawed and continue cooking as before. Because you will be starting with cold vegetables, the final stage of cooking will take a little longer.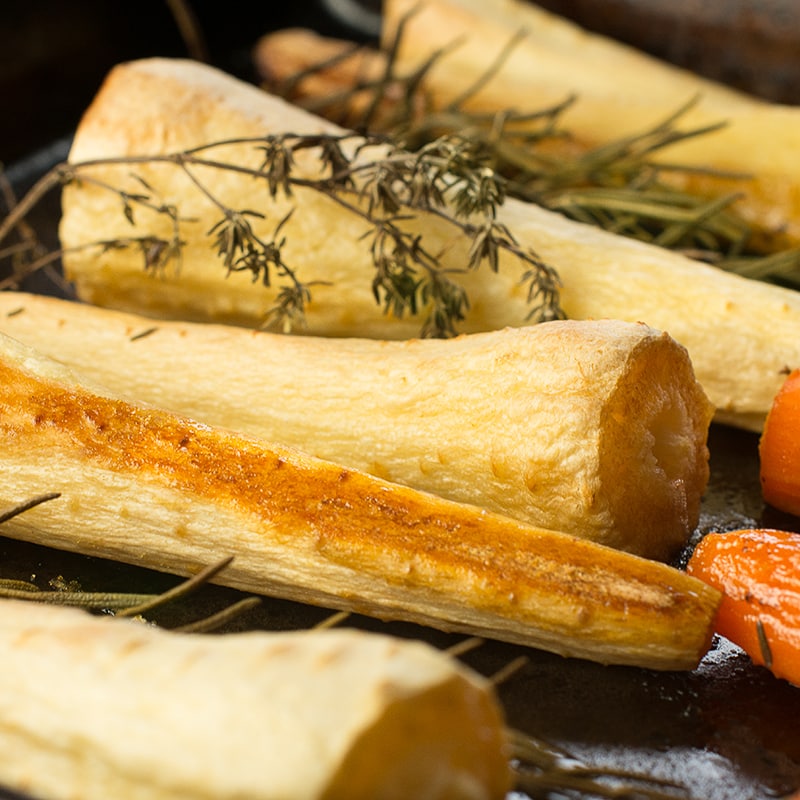 What are These Roasted Carrots and Parsnips Free From? Who are They Suitable For?
The ingredients I used to make this recipe are all free from the following allergens. However, please check any labels carefully for allergens you need to avoid as brands can vary and product recipes can change over time.
Suitable for Vegetarians
Gluten-Free
Egg-Free
Dairy-Free
Tree Nut-Free
Peanut-Free
Sesame-Free
Soya-Free
Sulphur Dioxide & Sulphite-Free
Fish-Free
Crustacean-Free
Mollusc-Free
Celery-Free
Mustard-Free
Lupin-Free
Other seasonal recipes you might enjoy
Try these savoury recipes to make the festive season (or any roast dinner) delicious.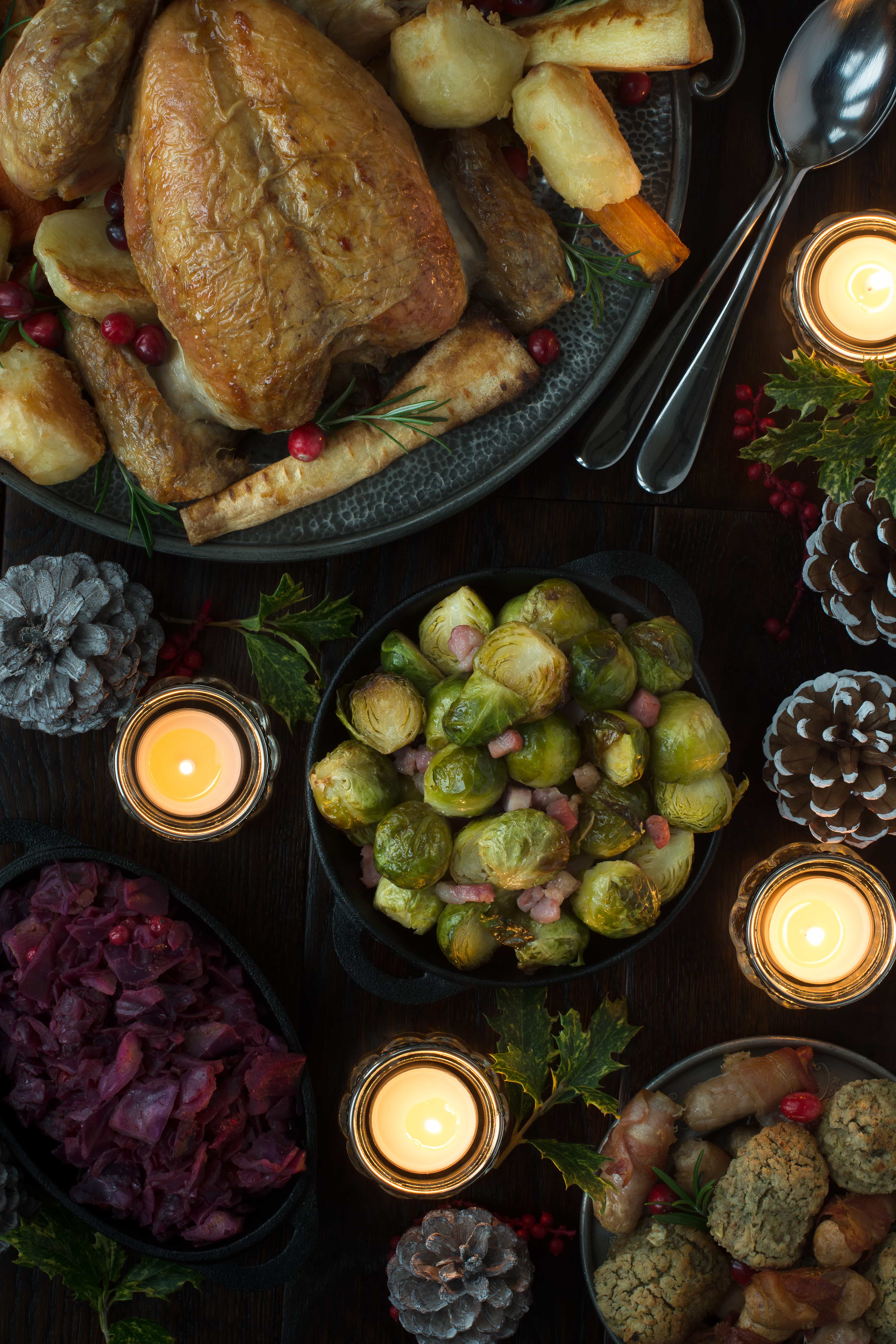 Or give these sweet treats a try.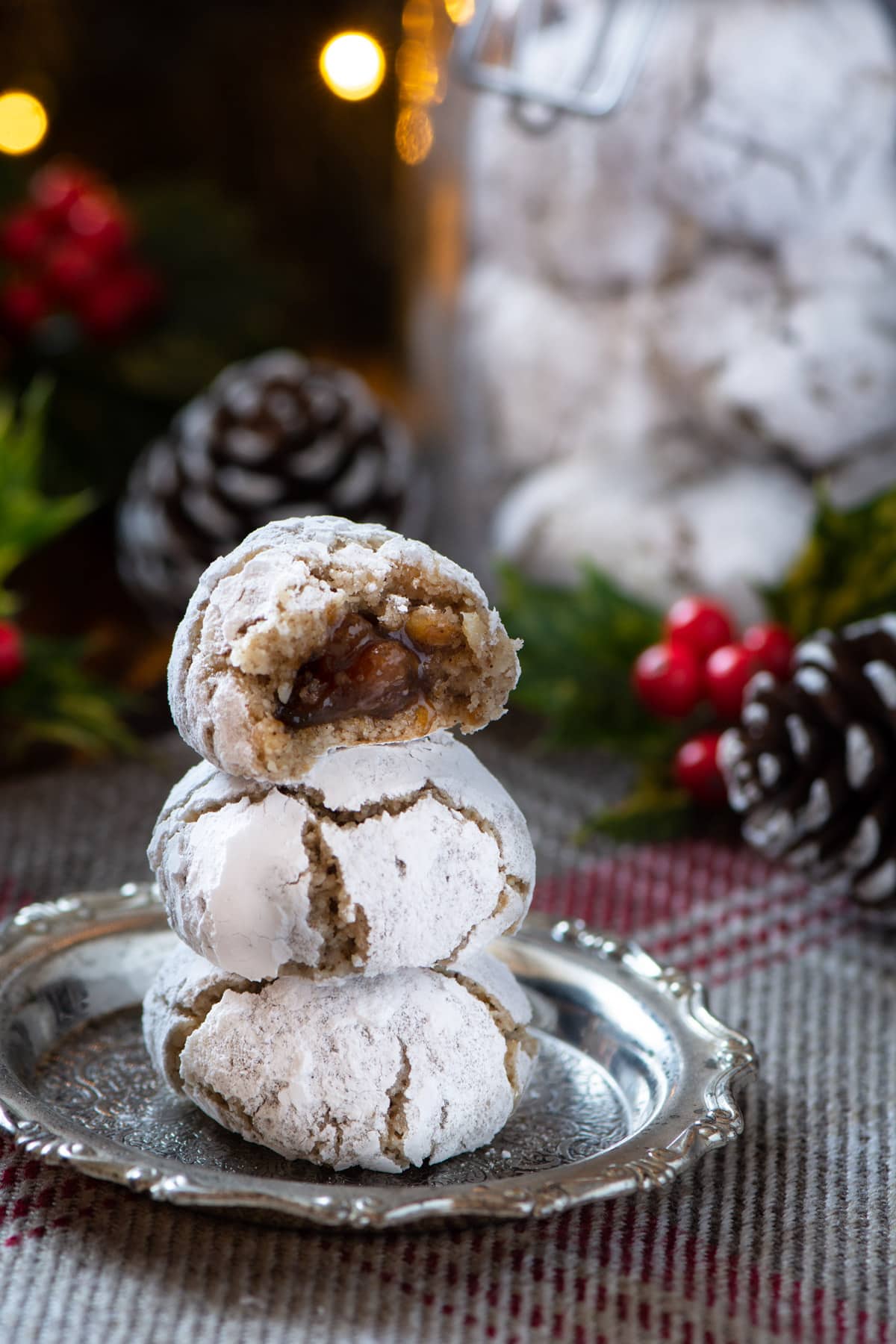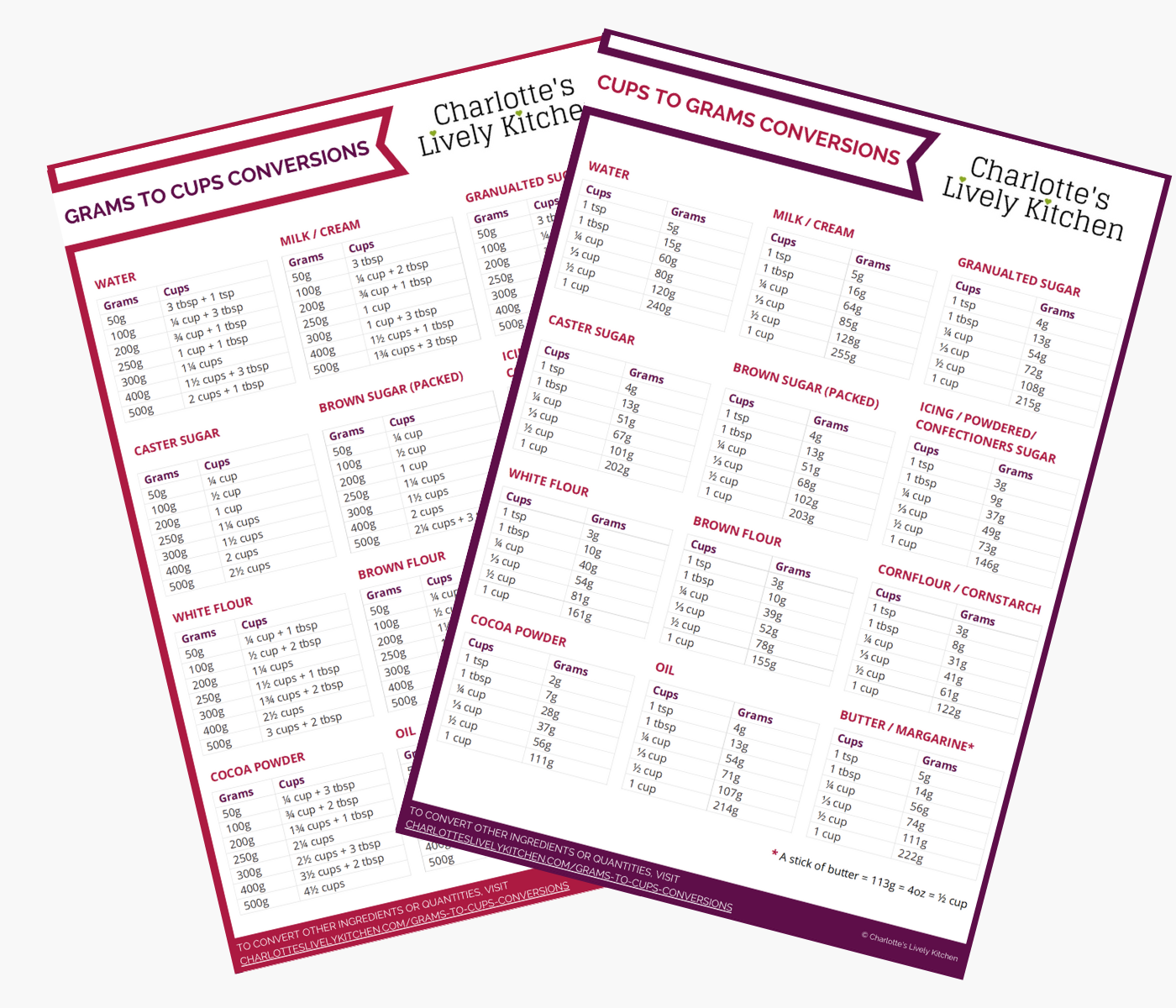 Subscribe to the Charlotte's Lively Kitchen mailing list to get your FREE printable grams to cups and cups to grams conversion charts for twelve popular baking ingredients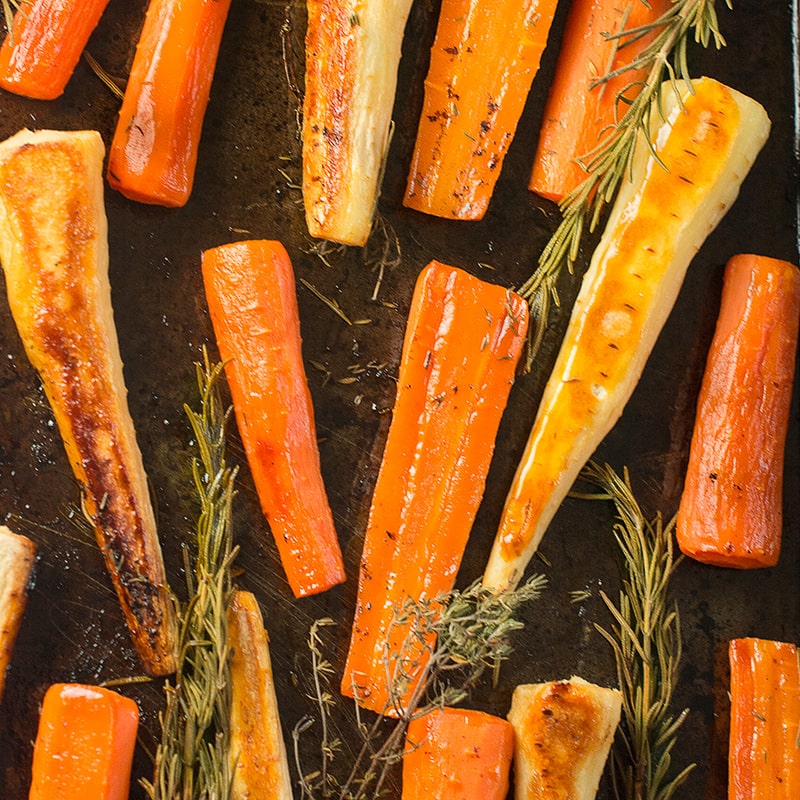 Honey Roasted Carrots and Parsnips
Honey roasted carrots and parsnips with rosemary and thyme – easy to prepare and delicious to eat. The perfect accompaniment to your roast dinner.
Print
Rate
Save
Go to Collections
INGREDIENTS
4

medium carrots

4

medium parsnips

2

tsp

olive oil

2

tsp

runny honey

A few sprigs of fresh rosemary and thyme

A pinch of salt
INSTRUCTIONS
Pre-heat the oven to 220ºC/200ºC fan.

Peal the carrots and parsnips and chop the larger ones lengthways into halves/quarters so that all pieces are about 1-2cm wide.

Put the carrots and parsnips into a baking tray, ensuring that they all have a bit of space.

Mix the olive oil (2 tsp) and honey (2 tsp) in a cup and brush over the carrots and parsnips. Lay over the sprigs of rosemary and thyme and season with salt.

Put into the oven and roast for 35-45 minutes (until they're soft with a little bite). Give the tray a shake every now and again to help them cook evenly.

Once they're cooked, they're ready to serve.
NOTES
Have you tried this recipe? Please leave a comment and rating at the bottom of the page to let others know what you thought.
WANT TO HEAR ABOUT NEW RECIPES FIRST?
SUBSCRIBE to the Charlotte's Lively Kitchen Mailing List
NUTRITIONAL INFORMATION
Calories:
171
kcal
|
Carbohydrates:
36
g
|
Protein:
2
g
|
Fat:
2
g
|
Sodium:
57
mg
|
Potassium:
776
mg
|
Fiber:
9
g
|
Sugar:
13
g
|
Vitamin A:
10190
IU
|
Vitamin C:
29.9
mg
|
Calcium:
76
mg
|
Iron:
1.1
mg
Any nutritional information provided is the estimated nutritional information per serving. Please refer to my guide to Charlotte's Lively Kitchen nutritional information if you would like to learn more about how this is calculated.
---