Summer fruits flapjacks – A delightful mix of strawberries, raspberries, blackberries and blackcurrants, sandwiched between crunchy oats in this easy to follow flapjack recipe.
Skip to the recipe | Recipe FAQs
There is nothing more glorious that seeing a shop full of glistening summer berries just waiting to be taken home and devoured. Often they're simply devoured with lashings of cream but sometimes its nice to do something a little different with them. Flapjacks are one of my favourite ways to make them most of beautiful berries whether they're fresh or frozen.
Flapjacks are a perennial kid favourite and this layered version is an ideal way of sliding some fruit into their diet. That isn't to say that these are only for children – I don't know an adult that wouldn't fight for one.
We all know that a great flapjack is totally versatile – from throwing one into a lunchbox, sitting down with a nice cup of tea and a treat, to buffets, picnics and even emergency car snacks. They also make an ideal option for a bake-sale.
If fresh berries aren't in season or you just fancy a more autumnal flavour, give my Apple Crumble Flapjacks a try instead.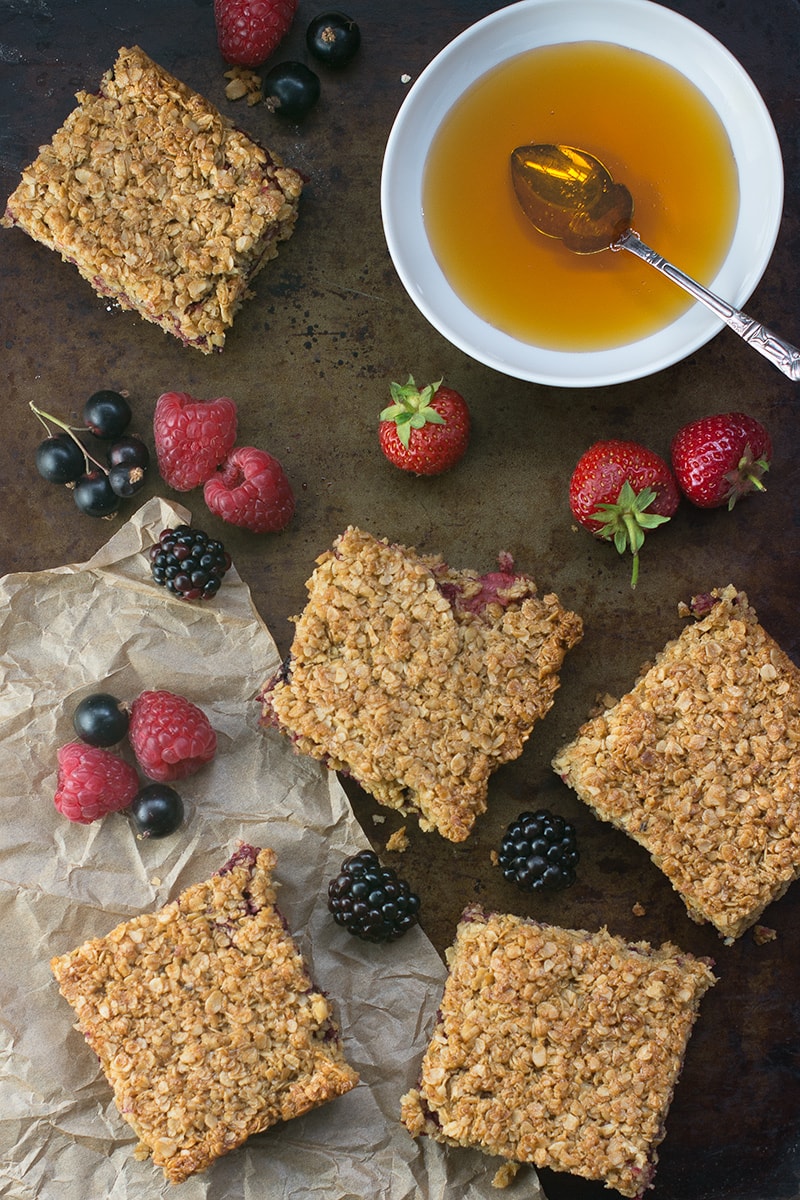 What berries are considered summer berries?
The exact mix of berries in a summer berry mix can vary. In the UK, mixes will often contain blueberries, blackcurrants, redcurrants, blackberries, strawberries and/or raspberries in varying quantities.
Can I use one just one or a different mix of the berries to the recipe?
The idea of this recipe is that you create three layers. Two layers of flapjack that sandwich the fruit in the middle. You can therefore make this recipe with any fruit (or other filling) you fancy.
Any mix of berries will work, you can even use just one fruit.
Will frozen fruit work in the recipe?
Yes you can use frozen berries to make flapjack. Because frozen berries release a lot of liquid when cooked, it is best to defrost the berries then drain any liquid away before using.
Don't throw the liquid away, add it to a smoothie, add sugar and boil it down to make a syrup that you can serve with the flapjacks or simply drink it.
Can I use this recipe to make jam filled flapjacks?
If you fancy making these flapjacks but don't have fruit to hand then you can easily substitute in a layer of jam instead.
Fresh or frozen fruit needs to be heated to remove some of the liquid and to make it mushy so the texture it is actually very similar to a rich fruity jam.
Can I use honey instead of golden syrup?
Whilst I haven't tested this variation of the recipe, it is usual that honey can be used instead of golden syrup in most flapjack recipes. I would therefore expect this to work but I cannot guarantee the results. Let me know in the comments if you try it.
My flapjacks are too crumbly – what did I do wrong?
Flapjacks still feel soft when they come out of the oven and become harder as they cool. Because of this it is easy to panic and bake them for a little extra time. This can dry out the flapjacks and make them crumbly.
Another possible reason if that the mixture isn't pressed into the baking tin firmly enough. This can mean that the mixture bakes into clumps rather than into one bar.
Lastly, if you try to take the flapjacks out of the tin before they are fully cool, they can start to break apart and look crumbly. Make sure to be patient so this doesn't happen.
How to store flapjacks and how long will they keep?
Flapjacks can be stored in an air-tight container for up to 2 weeks.
They do not need to be refrigerated but if it it is summer or especially hot where you are, they may become overly soft so popping them into the fridge may be a good idea. Just make sure to take them out the fridge a little while before serving so they can come back up to room temperature.
Can I make the fruit flapjacks vegan?
The only non-vegan ingredient in this recipe is the butter. By replacing the butter with a plant-based butter substitute, you can easily make vegan berry flapjacks.
What are these summer fruits flapjacks free from? Who are they suitable for?
The ingredients I used to make this recipe are all free from the following allergens. However, please check any labels carefully for allergens you need to avoid as brands can vary and product recipes can change over time.
Suitable for Vegetarians
Gluten-Free (please check your oats are gluten-free as some contain gluten due to the manufacturing process used)
Egg-Free
Nut-Free
Peanut-Free
Sesame-Free
Soya-Free
Sulphur Dioxide & Sulphite-Free
Lupin-Free
More recipes featuring summer berries that you might enjoy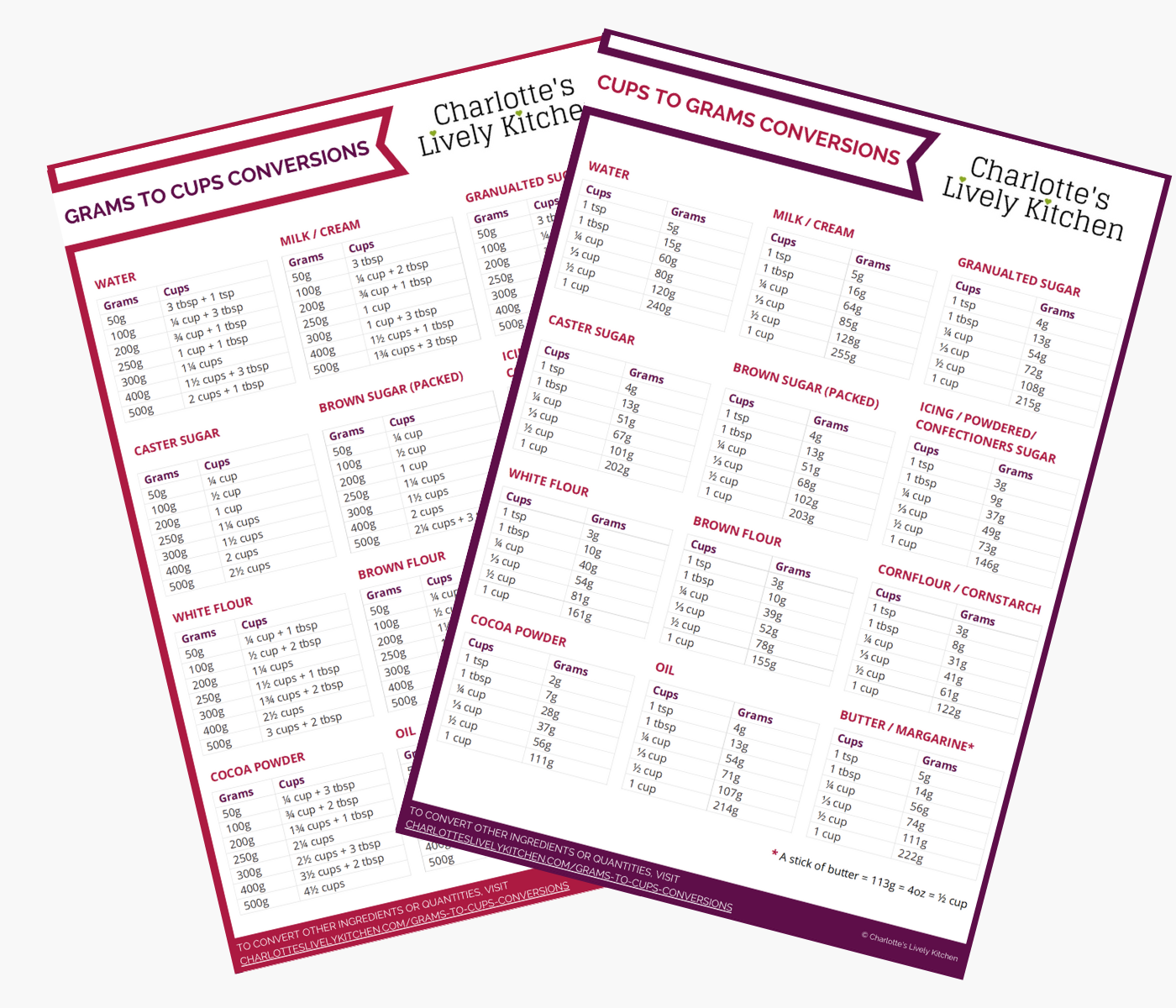 Subscribe to the Charlotte's Lively Kitchen mailing list to get your FREE printable grams to cups and cups to grams conversion charts for twelve popular baking ingredients
Summer Fruits Flapjacks
Summer fruits flapjacks – A delightful mix of strawberries, raspberries, blackberries and blackcurrants, sandwiched between crunchy oats in this easy to follow flapjack recipe.
Print
Rate
Save
Go to Collections
Servings:
12
large flapjacks
INGREDIENTS
150

g

strawberries

150

g

raspberries

150

g

blackberries

150

g

blackcurrants

250

g

unsalted butter

4

tbsp

golden syrup

100

g

light brown muscovado sugar

500

g

oats
INSTRUCTIONS
Pre-heat the over to 190ºC/170ºC fan.

Line a baking tray with greaseproof paper. I used a 20cm x 26cm tin.

Remove the stems from the blackcurrants and strawberries

Put the fruit (600g in total) in a large pan and cook on a low heat until the fruit is soft (around 5 minutes), stirring occasionally to prevent it burning.

Meanwhile put the butter (250g), golden syrup (4 tbsp) and light brown muscovado sugar (100g) into a large pan and cook on a low heat until the butter has melted, stirring occasionally.

Once the butter has melted, remove from the heat, add the oats (500g) and stir until fully combined.

Once the fruit has softened, drain off the excess liquid and mash it a few times so it is mushy but still has quite a few lumps. The fruit should now look like a rich fruity jam in texture.

Place half of the oat mixture into the pre-lined tray and push down firmly to form an even layer – you must push down firmly to ensure that the flapjack doesn't fall apart when you remove it from the tin later.

Add the fruit to the tin and spread to form an even layer.

Add the remaining oat mixture and press firmly into an even layer.

Place in the oven and cook for 20 minutes until the flapjacks are golden in colour and slightly darker around the edges.

When the flapjacks are cooked, remove from the oven and leave to cool in the tin for 10 minutes.

After 10 minutes, transfer to a wire rack to cool thoroughly.

Once cooled, slice into 12 equal sized slices.

Serve.
NOTES
Have you tried this recipe? Please leave a comment and rating at the bottom of the page to let others know what you thought.
WANT TO HEAR ABOUT NEW RECIPES FIRST?
SUBSCRIBE to the Charlotte's Lively Kitchen Mailing List
NUTRITIONAL INFORMATION
Calories:
386
kcal
|
Carbohydrates:
47
g
|
Protein:
6
g
|
Fat:
19
g
|
Saturated Fat:
11
g
|
Cholesterol:
44
mg
|
Sodium:
7
mg
|
Potassium:
265
mg
|
Fiber:
5
g
|
Sugar:
16
g
|
Vitamin A:
575
IU
|
Vitamin C:
35.9
mg
|
Calcium:
49
mg
|
Iron:
2.2
mg
Any nutritional information provided is the estimated nutritional information per serving. Please refer to my guide to Charlotte's Lively Kitchen nutritional information if you would like to learn more about how this is calculated.
---