Millionaires' Cupcakes – Chocolate cupcakes topped with caramel buttercream with a hidden shortbread and caramel centre.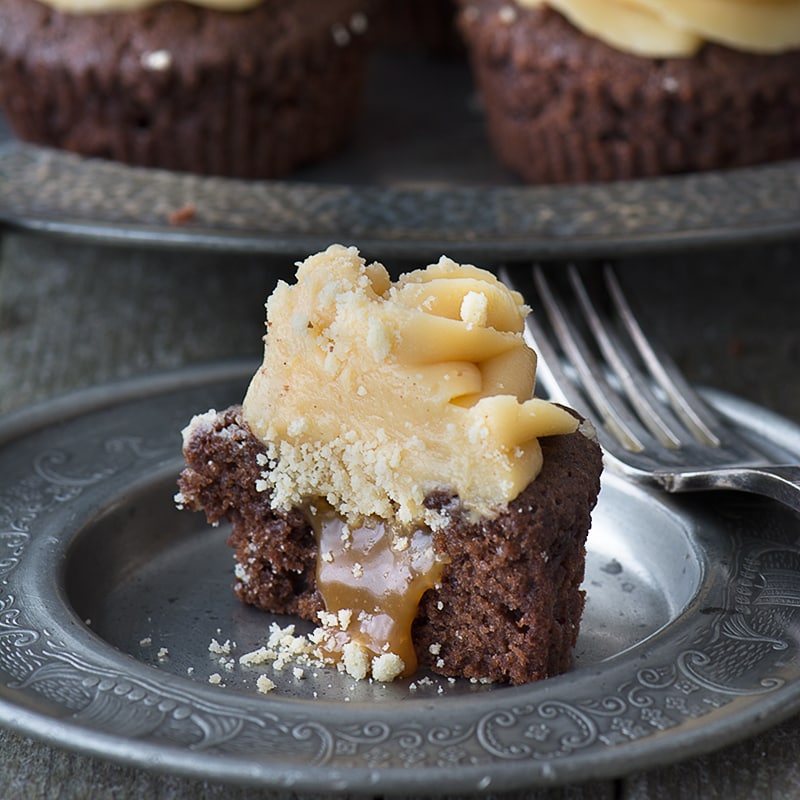 I first shared this recipe for Millionaires' Cupcakes in time for National Cupcake Week. One thing I love about creating cupcake recipes above pretty much all others is the possibilities it offers, cupcakes are just perfect for taking one idea and twisting it into cake form.
I've done it a few times before with my White Russian Cupcakes and my Caramel Macchiato Cupcakes (which by the way use the same caramel sauce as this recipe so if you have any leftover you should give those a try too 🙂 ) and this recipe is another classic dessert twisted into a cake-y deliciousness – Millionaires' Shortbread. These cupcakes are made from a chocolate sponge (which is adapted from my easy chocolate birthday cake recipe), caramel buttercream, and a hidden caramel and shortbread centre.
If you want to keep this recipe nice and simple then use ready-made caramel sauce and shortbread biscuits and if you fancy a bit more of a challenge (especially if you're feeling all inspired by Bake Off ) then you can make those too. I made the caramel but I have to admit that I did cheat this once on the shortbread 🙂
A running update
I mentioned a couple of weeks ago that I've decided to take up running and I said I'd talk a bit more about it sometime. You may be wondering whether in the middle of a cupcake recipe is really the right fit for a running update, but there is a (somewhat tenuous) link. I mentioned to a friend a couple of weeks ago that I'd started and we decided that we'd encourage each other by signing up to do a 5k together. I'd just posted a picture of these on Facebook and so I promised that as our reward for completing it I'd make a batch of these to celebrate (see I told you it was tenuous).
I decided to take up running after feeling inspired watching the Olympics. I headed over to the BBC website feeling all motivated to get fit and completed their Which Sport Are You Made For quiz. I'd been secretly hoping it would suggest trampolining as that looks like a lot of fun but it came back with bowls. Bowls! Not exactly super active is it? It also suggested running and cycling as alternatives so running it was.
The main reason I'm sharing this with you all is that I don't want to quit. I'm hoping that if I go a while without posting an update on here or twitter someone will come and give me a virtual kick and tell me to get back out there.
I've actually surprised myself how much I've enjoyed running. Don't get me wrong pretty much every step of it while I'm out there I'm wishing I was sat at home with a cup of tea (and maybe a cupcake), but I love the fact that I'm getting a bit fitter, I love the fact that I'm slowly getting a bit better each time I go out, and I love the fact that I feel I'm setting a good example to the boys to get out there and exercise (not one they need right now as they're always on the go, but hopefully it will help in future). As yet I wouldn't say I'm actually a runner, I'm doing the couch to 5k challenge and I'm on week 4 where the longest you run without a break to walk is 5 minutes (it ramps up a lot over the next few weeks and I'm scared!), but each week I think I've reached my limit and yet I just about manage to push myself to complete the next session.
If you fancy giving running a try but don't feel like you're ready then I'd really recommend downloading the couch to 5k app and using that (and if you do, make sure you let me know how you're getting on – I'd love to hear about it). My only other tip is to listen to something that makes you happy while you run. I've found that it's much easier for me if I listen to comedy shows instead of music – it distracts me from what I'm doing and makes me smile. Do you run, what do you listen to?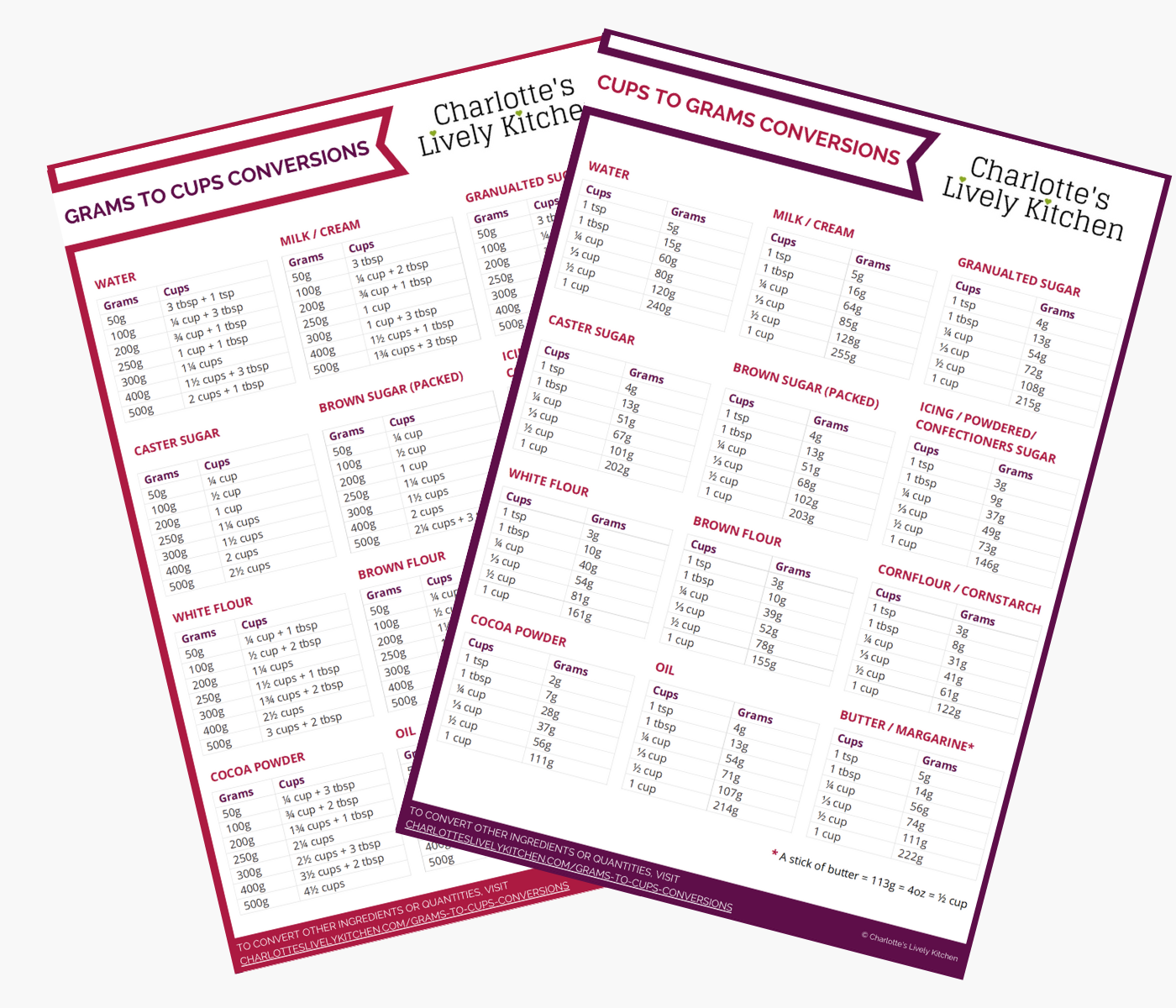 Subscribe to the Charlotte's Lively Kitchen mailing list to get your FREE printable grams to cups and cups to grams conversion charts for twelve popular baking ingredients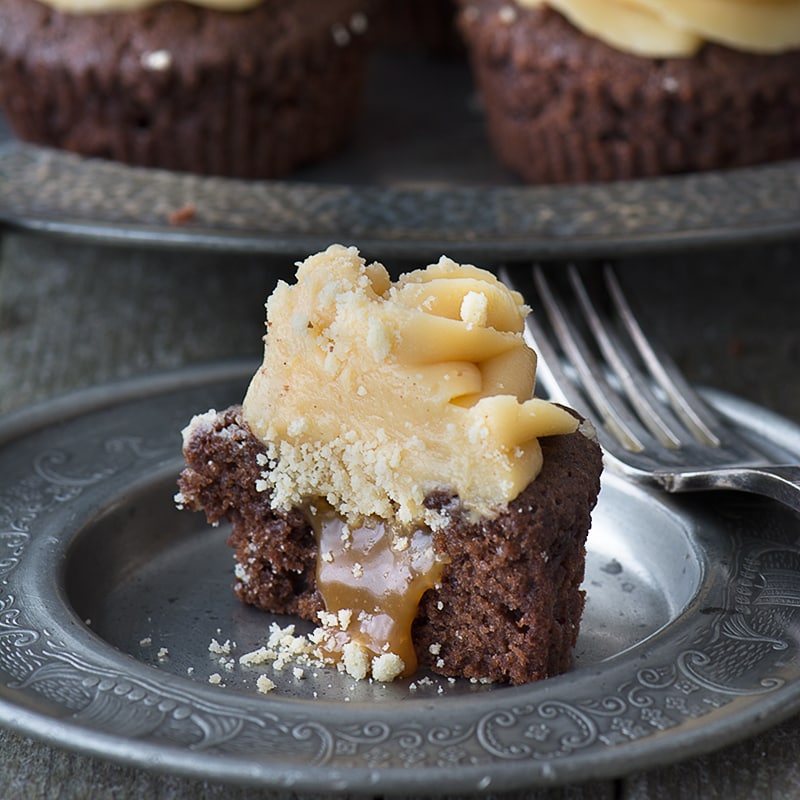 Millionaires' Cupcakes
Chocolate cupcakes topped with caramel buttercream with a hidden shortbread and caramel centre.
Print
Rate
Save
Go to Collections
INGREDIENTS
Chocolate cake
100

g

self-raising flour

115

g

caster sugar

20

g

cocoa powder

50

g

milk chocolate

2

large eggs

115

g

soft butter/margarine

¼

tsp

vanilla extract

1

tsp

milk
Caramel buttercream
150

g

soft butter

150

g

caramel sauce -

I use a batch of my homemade caramel sauce

150

g

icing sugar
INSTRUCTIONS
Chocolate cake
Pre-heat your oven to 160ºC/140ºC fan.

Line a 6-hole muffin tin with cupcake cases.

Grate the milk chocolate (50g).

Put all of the ingredients into a large bowl (100g self-raising flour, 20g cocoa powder, 115g caster sugar, 2 large eggs, 115g soft margarine, ¼ tsp vanilla extract, 1 tsp milk and the grated chocolate) mix on a low speed until fully combined.

Divide the mixture evenly between the cupcake cases.

Put the tin in the oven and cook for 25-30 minutes until a skewer inserted in the middle comes out clean.

Once cooked, remove the cakes from the tin and leave to cool on a wire rack while you make the caramel buttercream.
Caramel buttercream
Put the buttercream ingredients into a large bowl (150g butter, 150g caramel sauce, 150g icing sugar) and beat on a low speed until fully combined and smooth.
Build the cupcakes
Use a pestle and mortar or rolling pin to crush the shortbread biscuits.

Use a teaspoon to scoop out the centre of each cupcake.

Add 1tsp of caramel sauce and then 1 tsp of crushed shortbread into the centre of each cupcake.

Put the caramel buttercream into a piping bag fitted with a star nozzle and pipe the buttercream on top of each cupcake.

To finish sprinkle each cupcake with a little of the crushed shortbread.

Enjoy
NOTES
Nutritional information is not provided as you probably don't want to know - it's quite a bit of running!
WANT TO HEAR ABOUT NEW RECIPES FIRST?
SUBSCRIBE to the Charlotte's Lively Kitchen Mailing List
Any nutritional information provided is the estimated nutritional information per serving. Please refer to my guide to Charlotte's Lively Kitchen nutritional information if you would like to learn more about how this is calculated.
---