Cupcakes are a great way to get creative in the kitchen. You can make one kind of sponge, another buttercream and perhaps a hidden centre for a little surprise.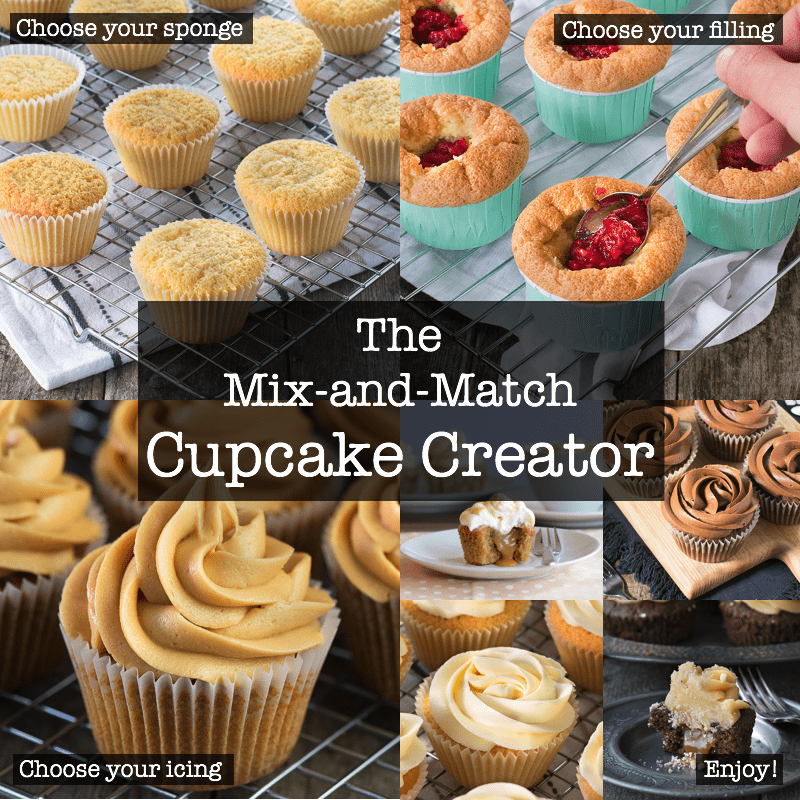 I've shared quite a few cupcake recipes on here over time, but (especially for my simpler ones) I've always tended to go for the obvious match – chocolate cupcakes with chocolate buttercream, vanilla with vanilla, etc… so I wanted to create a place where you can find everything together, allowing you to mix and match to your heart's content.
I've also got a collection of my more creative cupcakes just in case you don't fancy having to come up with the combinations yourself.
If there's a sponge, icing or filling that's not here but you'd love to see, let me know in the comments and I'll do my best to add it.
2) Choose a filling (or two!)
To add a filling to your cupcake, simply use a teaspoon to scoop out a little of the sponge in the centre of the cupcake and then add your filling.
Instead of a spoon you can also push the round (wide) end of a large piping nozzle into the centre of the cupcake and then pull out the sponge in the centre to get an even round hole. If you plan on making a lot of filled cupcakes you can buy special corers.
Some cupcake inspiration
If all this picking and choosing is too difficult then why not try one of these tried and tested combinations…